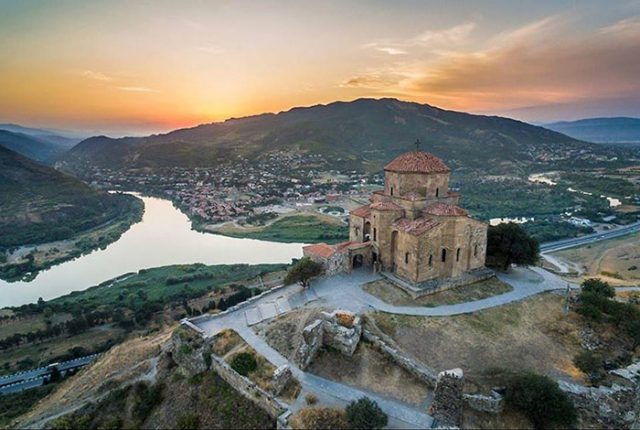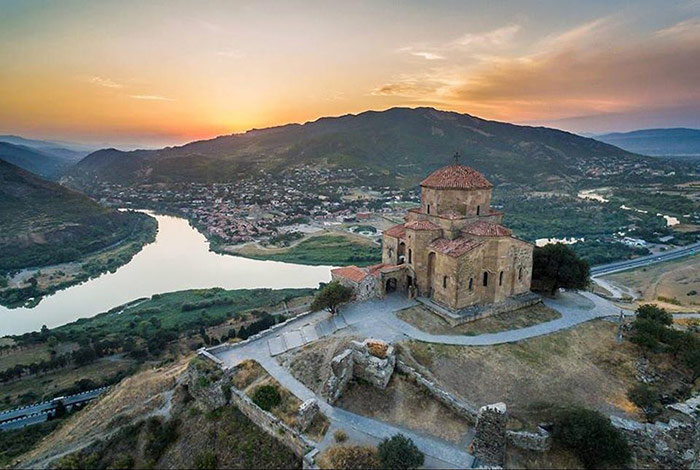 Jvari Monastery – Mtskheta – Svetitskhoveli – Samtavro – Wine Tasting
Departure to the ancient capital of Georgia, now the holy city of Mtskheta (24 km. From Tbilisi).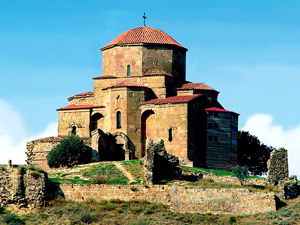 Jvari Monastery (VI c.), which is located on top of a mountain, from the slopes of which you can see how the jets of two rivers merge – the Kura and Aragvi. By 545, a small church was already standing on the "Cross" mountain; now it is in ruins. A larger tetraconch church, consecrated in honor of the Exaltation of the Holy Cross, was erected between 586 and 604.
Jvari along with the neighboring Zedazeni monastery is considered the scene of Mikhail Lermontov's poem "The Novice" ("Mtsyri").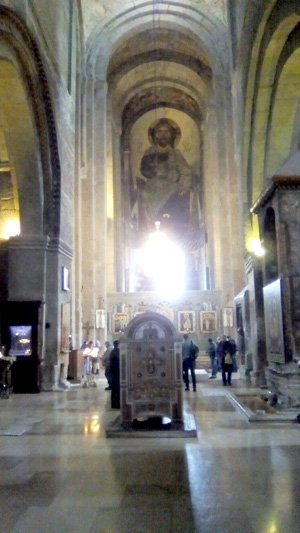 Svetitskhoveli Cathedral – the Patriarchal Cathedral of the Georgian Orthodox Church, in honor of the Twelve Apostles, built in 1010-1029, on the site of the first Christian church in Georgia, built over the grave of St. Sidonia. Known as the burial site of the claimed Christ's mantle, Svetitskhoveli has long been one of the principal Georgian Orthodox churches and is among the most venerated places of worship in the region.
One of the foundations of the temple was the sacred trunk (cedar), which stood at the burial place of the robe of Christ, by which the temple is named ("Sveti" – pillar, "Tskhoveli" – life-giving).
Svetitskhoveli is recognized by UNESCO as a World Heritage Site.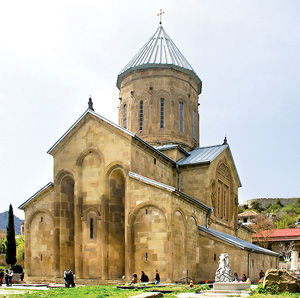 Samtavro Transfiguration Orthodox Church and Nunnery of St. Nino is located at the confluence of the Mtkvari (Kura) and Aragvi rivers. It is believed that the first church on this place was built in the IV century by King Mirian III.
There are many shrines in the Samtavro temple: part of the life-giving pillar, the miraculous icon of St. Nina, the grave of the holy Kings Mirian and Queen Nana, the relics of St. Abibos Nekres, the relics of Saints Shio Mgvime and Gabriel (to which you can venerate, and to acquire healing oil illuminated on his grave), part of the stone from the grave of St. Nina and other relics. In the vicinity of the church is a bramble, where St. Nino preached Christianity.
Dinner in Mtskheta (at your discretion).
Return to Tbilisi.
Price:
Group excursion: 19 $ per person.
Private tour:
Total price for 2 person: $ 135 (or 130 Euro)
Total price for 3 person: $ 160 (or 150 Euro)
Total price for 4 person: $ 205 (or 195 Euro)
Total price for 5 person: $ 215 (or 205 Euro)
Total price for 6 person: $ 225 (or 215 Euro)
The price includes:
Professional guide services;
Transport service.
The price does not include wine tasting.
An excursion to Mtskheta will give you a lot of unforgettable experiences.